What we do at Anberry Nursing & Rehabilitation Center: We love, care, nurture, teach, clean, cook, encourage, educate, befriend, support, entertain, listen, soothe and strengthen our clients and fellow staff!
Anberry Nursing & Rehabilitation Center provides:
Short-term Post-acute Rehabilitation
Outpatient Short-term Rehabilitative Services, which attend to the emotional, mental, physical, social and spiritual well-being of our residents.
We utilize interdisciplinary clinical teams that include physicians, nurses, therapists, dietitians, social workers and case managers to plan and deliver specialized programs of care. Our programs are designed to attain or maintain the highest practicable physical, mental and psychosocial well-being of each resident in a timely and cost effective manner.
Medical rehabilitative, and long-term health care services are provided to meet the needs of persons with the following conditions:
Alzheimer's Disease & related disorders
Cardiac recovery
Dermatological problems
Digestive and gastro-intestinal problems
Endocrine disorders
General debilitation following hospitalization
Hearing problems
Hematological disorders
Hospice Care
Infusion therapy
IV therapy
Joint replacement
Musculo-skeletal trauma
Neuromuscular disease
Neurological disorders and dysfunction
Oncology
Pain management
Post-op rehabilitation
Renal and urinary problems
Respiratory conditions (excluding vents)
Rheumatoid disorders
Vision disorders
Wound care
Rest and relaxation are important to your total recovery. Studies suggest maintaining positive psychosocial well-being promotes the healing process. At Anberry Skilled Nursing & Rehabilitation Center, various activities are available to accommodate different hobbies, interests, and social needs. A calendar of daily activities with different themes and guests is provided to each guest to ensure you don't miss out on the fun! Personalized and one-to-one activity plans are offered and tailored to you or your loved one's needs.
Some Recurring Activities
Weekly visits from different religious groups—offering Communion, services
from various local churches, room visits, etc.
Fun Friday Bash—live music program
Professional pianist, harpist, and other musicians
Bingo
Thursday live games
Nails by Christie
Visits by "Big Daddy," our therapy miniature pony
Chair exercise classes
Monthly candlelit dinners
Rotary Club visits
Holiday events
Local Girl Scout Troop events
At Anberry Skilled Nursing & Rehabilitation Center, our culinary staff is passionate about serving restaurant-quality food designed to meet your nutritional needs. Our Registered Dietitian will discuss your food preferences and dietary recommendations, providing alternate meal choices and snacks for all diet types.
Enjoy a fine dining experience under the skylights in our dining room, where our team seats you with friends and serves your personalized meal. In our spacious dining room, you are greeted by tablecloths, upbeat music, and warm smiles. Our staff pride themselves on remembering your favorite beverages and having them ready for you for each meal. Make some new friends and enjoy our five-Star Service! If room service sounds more enticing, make yourself comfortable as our staff set up your meal tray and offer you a selection of refreshing beverages from our beverage cart.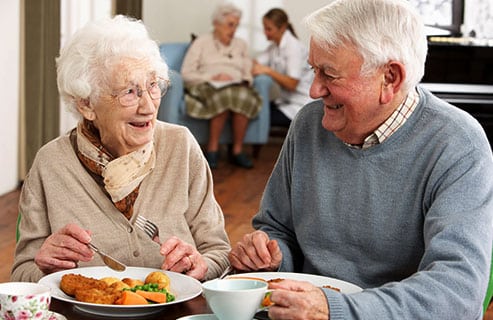 Special Treatment Program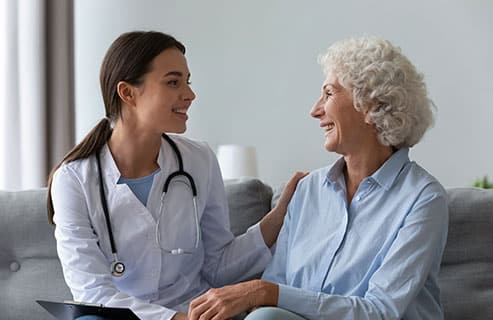 Anberry Nursing and Rehabilitation Center is a 99-bed facility specializing in the provision of short-term inpatient and long-term care. Our mission is to provide the highest possible quality of care in an atmosphere of warmth, hospitality and professionalism. Our facility provides a modern environment and a uniquely trained staff to meet the ongoing skilled and rehabilitation needs of the clientele we serve.