Bayberry specializes in medically complex conditions like stroke, cardiac failure, respiratory illness, hip and knee replacements, spinal cord injuries, traumatic brain injury, and dementia. The excellent team of experts will help residents gain back their abilities and safely return home.
We offer skilled nursing care, services delivered by a licensed nurse (registered nurse or licensed vocational nurse) 24 hours a day, seven days a week. Your charge nurse will make assessments, administer your medication, coordinate lab work and X-rays, follow up on appointments, and contact your physician as needed.
Intensive short-term rehabilitation therapy
Long-term restorative care
Respite care
Dementia care
Cardiac care
Orthopedic care
Stroke recovery care
Wound care
Physical therapy
Occupational therapy
Speech therapy
Orthopedic rehab
Stroke, pulmonary, and cardiac rehab
Spinal cord injury
CHF, COPD, and diabetes management
Wound and ostomy care
IV therapy
Tube feeding
Memory/dementia care
Enhanced dining
Wi-Fi
Free cable television
Barber
Phones in short-term unit
Pet visits
Free parking
Bayberry Skilled Nursing & Healthcare Center offers a variety of activities daily, weekly, and monthly that help patients recover physically as well as spiritually, mentally, and socially.
Exercise
Coffee socials
News chronicles
Catholic service
Bible study
Shopping trips
Bingo
Movie night
Video games
Card games
Songs by Andy
Christian church services with Harvest Church
Happy hour with mocktails
Performances by Miles and Dan Howard
Group birthday party
Visits from local school groups
Resident council meeting
Arts and crafts
Painting
Reminiscing
Trivia
Word games
Ice cream social
Spa treatments
Special and Holiday Events
Resident birthdays (balloons and cupcakes)
Cinco de Mayo barbecue
Easter egg hunt with local school children
Mardi Gras party
Valentine's Day dinner
Quarterly candlelight dinners
Luaus
Halloween costume parade
At Bayberry Skilled Nursing & Healthcare Center, we have a dedicated staff, including a dietitian and nutritionist, who work tirelessly to provide meals that are both delicious and healthy. We strive to develop food options that cater to each resident's specific dietary restrictions, requirements, and preferences, including a variety of ethnic cuisines.
We have a dining room where our residents can socialize during meals, but we offer in-room dining as well. Medical nutrition therapy—a nutritional assessment and management of diet to promote optimal wound healing, muscle development, and bone strength—is also utilized where applicable.
Special Treatment Program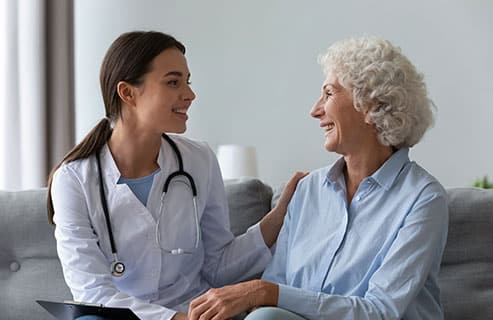 Our Special Treatment Program strives to help individuals live healthy, satisfying, and hopeful lives despite limitations and/or continuing effects caused by mental illness. The recovery, wellness, and discovery approach involves collaborating with the resident to facilitate hope and empowerment, with the goals of counteracting internal and external "stigma," improving self-esteem, encouraging resident self-management of their life and making their own choices, reintegrating the resident into their community as a contributing member, and achieving a satisfying and fulfilling life.
Our 58-bed secured special treatment unit offers skilled nursing and rehabilitation services in addition to on-site psychiatric and psychological services to help patients manage their mental illness diagnoses.
I am so glad we gave Bayberry a chance. They took care of my dad and helped him in every step of his recovery. They took care of him like he was their only patient. From nurses to therapists to certified nurses to administrators, all of them excelled in providing their service. They went up and beyond. I had requested FaceTime once a day, and it happened. I was notified of every single recovery step my dad took. I was sent pictures of him while he was in the rehab. . . .
All in all, we are very pleased with Bayberry. I would highly recommend them. All you need to do is communicate to them; they do everything in their power to make sure all your needs are met.
Thank you to everyone at Bayberry who took care of my dad. He is doing good and on the road to be more independent.
Mandeep A., ★★★★★ on Yelp