Bradley Court is a secure facility focusing primarily on post-hospitalization transitional care. Our patients suffer varying degrees of physical ailments, and many have a secondary diagnosis of mental illness. As such, our 56 beds are split evenly between behavioral health (secure) and skilled nursing (nonsecure) focuses. Located on beautiful grounds, Bradley Court includes two buildings, and residents are free to access the surrounding park-like grounds.
Bradley Court is currently undergoing renovations and expansion as well as adding new buildings—a transitional unit—to our grounds. We are adding rooms to our behavioral health programs and converting all skilled nursing beds to behavioral health beds. Our renovations will allow us to grow our programs, empowering us to do more for our community. No matter what, we remain committed to providing excellent service and a peaceful, beautiful environment in which our residents can recover.
At Bradley Court, our greatest success is the ability to help our patients successfully recover and discharge back to their home or into a lower level of care.
Behavioral team meetings
Behavioral modification
Psychiatric services
Psychological services
Psychotropic drug review
Daily meals
Supplements
Special diets
Weight management
Skilled nursing and rehabilitation care
Special care
Laboratory and pharmacy
Large outside recreation area
Daily activities
Adult education
Entertainment
Religious services
Pet therapy
Community outings
AA meetings
We provide comprehensive psychiatric care in an effort to minimize an individual's risk of danger to self or others. Our approach is holistic in nature, addressing medical, emotional, psychological, and social needs. We equip residents with valuable and applicable coping skills so that they may successfully move forward with their lives.
We have a wonderful team of registered nurses, licensed vocational nurses, and certified nursing assistants to carry out your physician's orders. Your care needs—including medication administration, diagnostic services, physician visits, and specialist appointments—will be facilitated by your nursing team. A case manager will walk you through the recovery process and answer any questions along the way.
Special Treatment Program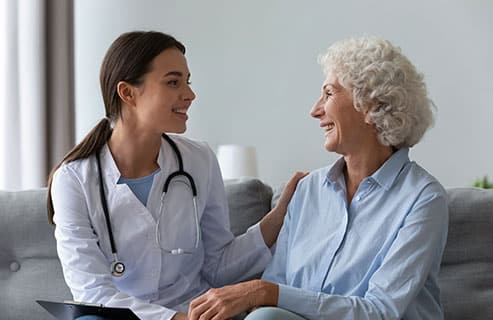 Our Special Treatment Program strives to help individuals live healthy, satisfying, and hopeful lives despite limitations and/or continuing effects caused by mental illness. The recovery, wellness, and discovery approach involves collaborating with the resident to facilitate hope and empowerment, with the goals of counteracting internal and external "stigma," improving self-esteem, encouraging resident self-management of their life and making their own choices, reintegrating the resident into their community as a contributing member, and achieving a satisfying and fulfilling life.
Our 58-bed secured special treatment unit offers skilled nursing and rehabilitation services in addition to on-site psychiatric and psychological services to help patients manage their mental illness diagnoses.
I have a family member that I visit here often. This nursing home facility has exceeded my expectations caring for my dad. My dad tells me how happy he is, and the food they serve is simply delicious. I see the staff to be friendly and always smiling whenever I'm in the building. I know how challenging it is to take care of my dad, and I thank you, Bradley Court, for the excellent service you provide. I have no complaints but instead praises to the entire staff and management team of Bradley Court.