Cedar Crest is a 90-bed skilled nursing facility focusing primarily on post-hospitalization transitional care. Our greatest success is the ability to help patients recover and discharge back to home or to a lower level of care! We employ over 20 therapists and operate a 2,500-square-foot, fully contained therapy unit. Together with our nursing staff, our goal is to help patients achieve their highest level of functional independence.
We are licensed by both the California State Department of Health and the federal government.
As such, our staff provides 24-hour-a-day nursing care and supervision to our patients. These services include assistance with activities of daily living (dressing, bathing, grooming, transfers, ambulation, etc.), feeding or assistance with meals, giving of medications, and treatments. The level of services provided to an individual resident can vary greatly depending on that resident's needs.
Licensed nursing staff members are on duty 24 hours a day and work with a team of trained nursing assistants in providing nursing care for our residents.
We have a wonderful team of registered nurses, licensed vocational nurses, and certified nursing assistants to carry out your physician's orders. Your care needs—including medication administration, diagnostic services, physician visits, and specialist appointments—will be facilitated by your nursing team. A case manager will walk you through the recovery process and be able to answer all of your questions about your care plan along the way.
Our rehabilitation program is comprehensive and includes physical, occupational, and speech therapy. We have helped many patients achieve outstanding results, and our staff has experience caring for people recovering from numerous conditions, including cardiac, orthopedic, neurological, and other illnesses.
We provide inpatient therapy services seven days a week. Upon admission, our team will consult with your physician and create a personalized therapy program specific to your needs and desires.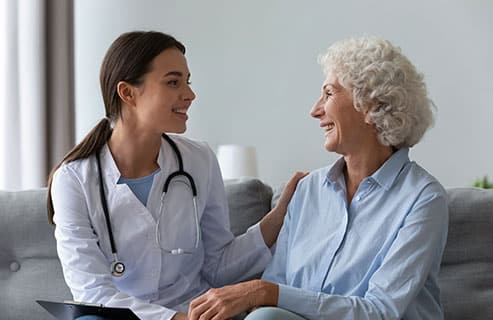 If I could give this place 1 million stars, I would. My mom is a long-term resident, and there is nowhere else I would trust to take care of her. With my mom here, she is cared for just as if she was home with me. The staff are professional, kind, and treat the residents like they are part of their family.
Management is perfect; when you have a concern or question, they take it seriously and respond quickly! But honestly, I have no complaints. Tracie has always helped me with anything I needed, even when I needed help with my English or translating important documents. The Administrator Bethany takes care of her staff and trains her staff to be the best, and she has a heart for the residents. All employees are great, but especially Cynthia, the director of nursing, Javier in admissions, Jeanne in patient relations, Molly in the business office, and Jose in maintenance are truly special leaders. They are the reason each department is so strong.
They will take care of your loved one, even in times of COVID. They will communicate with you and make sure you feel included and confident whether your family is here for the short term or long term.