Specialty services
Stroke rehabilitation
Prosthetic training
Neurological conditions
Perceptual skills training
Arthritis management
Aphasia rehabilitation
Swallowing dysfunction
Voice treatment programs
Respiratory therapy
Registered dietitian
Outpatient therapy services
Comprehensive social services and discharge planning
Behavioral health consultants
Infectious disease management
IV therapies
Wound care
Complex medical management
Chronic disease management
Diabetes
Chronic obstructive pulmonary disease (COPD)
Congestive heart failure (CHF)
Renal disease
Physical, occupational, and speech therapy
Inpatient and outpatient services
Long-term care services
Hospice
Dialysis
Respite
Personalized activity programs
Community outings
Rest and relaxation are an important aspect of your total recovery. Studies show that maintaining a healthy and positive psychosocial well-being helps promote the healing process.
At English Oaks, we offer a variety of patient-centered activities for you to choose from. Whether you prefer individual activities in the comfort of your own room or choose to partake in our daily social group activities, our staff is here to help promote your well-being.
Some of your entertainment options include the following:
Personal cable television services with individual television sets
Complimentary individual telephone services
Patient reading library with books on tape available
Recreational garden activities
Family-friendly, park-like grounds
Beautician services (fees applied)
While many healthcare institutions hire outside catering companies, English Oaks is proud to produce 100 percent of our meals independently and internally. Whether you're enjoying our "Special of the Day" or an item off of our "Select Menu," our meals are freshly made, and leftovers are never served.
We bake our own biscuits, rolls, and muffins. Our desserts are made fresh daily by skilled staff. Fresh soups are always prepared and slow-cooked on our stovetop using fresh ingredients. Our dining service team uses a fresh produce provider for locally sourced fruits and vegetables.
Our menus offer the RDA (Recommended Daily Allowance) of fruits and vegetables every day. Residents can request additional servings if they desire. We offer a number of specialty and patient-specific diets to meet the medical and health needs of our patients.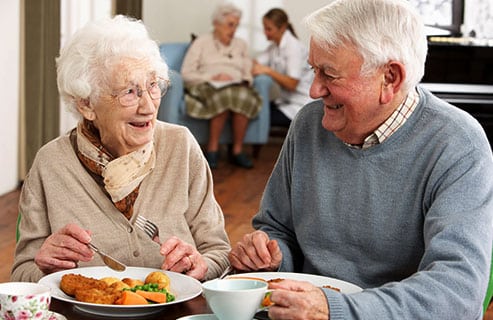 At English Oaks, residents have the option of tailoring their menus according to personal preference. We feature in-room, outdoor, therapeutic, and social dining experiences for our patients.
So far, the communication and sincere concern for appropriate care has been delivered timely to me. I know this is an early review; however, this is not the first facility my mother has been at in the past weeks. I have had to move her from neglectful hospitals and would like to shout at the team there for being the most "together" facility I have seen out of three different facilities claiming to provide the same level of care. My mother has been in there for three days, and I have already answered calls from the nurses and care team at least once a day to give me updates! This may not seem like a big deal for somebody just recently caring for their elderly parent; however, this level of care is indeed a big deal when compared to the average "for profit." Thank you, English Oaks! Also, Cloe in admin: You're awesome!
Justin F., ★★★★★ on Google