Horizon Health & Sub-Acute
Horizon Health and Sub-Acute
About Horizon Health and Sub-Acute
Horizon Health & Sub-Acute offers a continuum of post-acute care driven by people caring for others. We care about our residents, their families, and one another. Our core values and family culture compel us to provide compassionate care and achieve quality outcomes. Each day is centered around these themes, and each member of our team arrives with a renewed dedication to our family. 
At Horizon Health & Sub-Acute, we strive to center the care and services we provide around restoring the individual to their best health possible, driven by proven clinical intelligence provided by loving, caring hands. Our mission is to take care of the people who have entrusted their care to us. Our treatment philosophy creates an environment that includes animals, plants, and children because they stimulate and enhance the quality of life.
Patient care is our top priority.
We treat all with dignity and respect.
We invest in employee growth and learning.
We demonstrate and foster a positive team and family culture.
We embrace and promote safety.
Our experienced therapy team is committed to providing comprehensive programs. Patients are empowered through individualized programs to work towards transitioning home.
24-hour licensed nursing care
Medicare, HMO, and private insurance accepted
Private and semiprivate rooms
Discharge planning and social service assistance
Restorative nursing programs
Activity and recreational therapy programs
Registered dietitian
Regular and special diets available
Personal laundry service
Religious services and programs
Pharmacy consulting
Electric beds
Physical, occupational, and speech therapy programs
Intravenous therapy
Laboratory testing and X-rays
Physician, podiatrist, vision, and dental visits
Audiology services
Beauty and barber services
Transportation
Individual and group therapy sessions
Psychiatric and psychological services
Weekly psychiatric clinic
Full-time psychologist and social worker
Physical and occupational therapy
Daily activities
Community outings
Adult education
Religious services
Pet therapy
Substance-abuse recovery meetings
Laboratory services
Pharmacy services
Behavioral team meetings
Behavioral modification
This special unit offers our community a quality alternative to both short- and long-term subacute care for medically complex patients, including ventilator-dependent and trach patients, anoxia-related conditions, neuromuscular degenerative diseases, spinal cord injuries, brain tumors, COPD, and many others.
Trach and ventilator care
Dedicated respiratory therapist
Physical, occupational, and speech therapies
Wound care
Post-Acute Skilled Nursing Services
At Horizon, quality of life is as important as quality of care.
Our team works together with the doctors, patients, and family members to determine the optimal treatment plan for each situation.
Administration of IV and IM medications, including antibiotics
Central line monitoring and care
Wound care (complex, surgical, and burns)
Pain management
Ostomy care (initiation of gastrostomy feeding, including home teachings)
Short-term care (help patients who are recovering from surgery or acute and chronic illness achieve their maximum functional capacity in the shortest time possible)
Rest and relaxation are important to your total recovery. Studies suggest maintaining positive psychosocial well-being promotes the healing process. At Horizon Health & Sub-Acute, various activities are available to accommodate different hobbies, interests, and social needs. A calendar of daily activities with different themes and guests is provided to each guest to ensure you don't miss out on the fun!
Personalized and one-to-one activity plans are offered and tailored to you or your loved one's needs.
Some Recurring Activities
Personal cable television services with individual TV sets
Complimentary individual telephone services
Patient reading library with books on tape
Recreational garden activities
Family-friendly, park-like grounds
Wireless internet services with available bedside workstations
Beautician services
Pet therapy (cats)
Movie nights
Bingo
Casino games
Religious services
Musical events
Family education night
Karaoke
Holiday-themed events
Seasonal parades
At Horizon Health & Sub-Acute, our culinary staff is passionate about serving restaurant-quality food designed to meet your nutritional needs. Our registered dietitian will discuss your food preferences and dietary recommendations, providing alternate meal choices and snacks for all diet types.
Enjoy a fine-dining experience under the skylights in our dining room, where our team seats you with friends and serves your personalized meal. In our spacious dining room, you are greeted by tablecloths, upbeat music, and warm smiles. Make some new friends and enjoy our five-star service!
If room service sounds more enticing, make yourself comfortable as our staff sets up your meal tray and offers you a selection of refreshing beverages from our beverage cart. Our staff members pride themselves on remembering your favorite beverages and having them ready for you for each meal.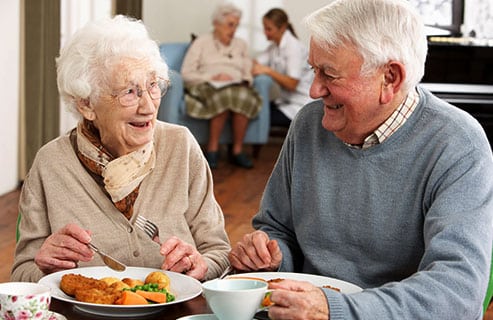 Special Treatment Program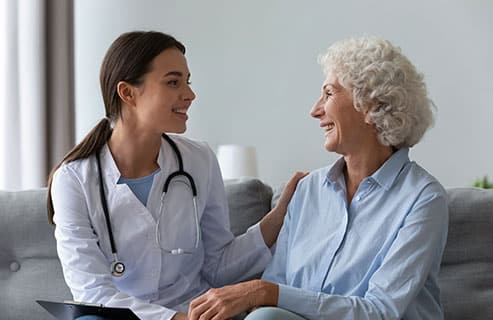 Our Special Treatment Program strives to help individuals live healthy, satisfying, and hopeful lives despite limitations and/or continuing effects caused by mental illness. The recovery, wellness, and discovery approach involves collaborating with the resident to facilitate hope and empowerment, with the goals of counteracting internal and external "stigma," improving self-esteem, encouraging resident self-management of their life and making their own choices, reintegrating the resident into their community as a contributing member, and achieving a satisfying and fulfilling life.
Our 44-bed secured special treatment unit offers skilled nursing and rehabilitation services in addition to on-site psychiatric and psychological services to help patients manage their mental illness diagnoses.
My dad was in this facility several years back. The employees took excellent care of him and they were a blessing to him and us. They cried when [he] transferred to a different facility closer to home but he was never treated as good as here before he passed away.
Shellee P., ★★★★★ on Google
I stayed at Horizon for a septic hip and intravenous antibiotics and it really was a good experience.
The whole staff was wonderful to me and treated me with the utmost care. From the activity staff to [the] nursing staff and everybody in between, [everyone was] great!
Penny L., ★★★★★ on Google