Established facility with a long-term, experienced, 24-hour licensed nursing staff
In-house physical, occupational, and speech therapy
Complex wound management
Discharge management
Social services
Intravenous therapy
Pharmacy counseling and medication management
Laboratory testing X-ray
Physician, podiatrist, vision, and dental visits
Electric beds
Wi-Fi
Cable TV for each bed
Beauty and barber services
Guest meals
Hospice and respite care
Rest and relaxation are an important aspect of your total recovery. Studies show that maintaining a healthy and positive psychosocial well-being helps promote the healing process.
At Pleasanton, we offer a variety of patient-centered activities for you to choose from. Whether you prefer individual activities in the comfort of your own room or choose to partake in our daily social group activities, our staff is here to help promote your well-being.
Some of your entertainment options include the following:
Cable television services with individual television sets
Complimentary individual telephone services
Patient reading library with books on tape available
Recreational garden activities
Family-friendly, park-like grounds
Wireless internet services with available bedside workstations
Beautician services
Some of our activities include the following:
Movie nights
Bingo
Casino games
Religious services
Musical events
Resident council
Family education night
Pet therapy
Aromatherapy
Arts and crafts
Holiday-themed events
While many healthcare institutions hire outside catering companies, we are proud to produce all our meals independently and internally. Whether you're enjoying our "Chef's Special of the Day" or an item off of our "Select Menu," our meals are freshly made.
We bake our own biscuits, rolls, muffins, and cornbread and use local bakeries to supply our fresh bread. Our desserts are prepared from scratch, and our meals are prime cuts roasted in our oven. Fresh soups are always prepared and slow-cooked on our stovetop.
We offer an abundance of fruits and vegetables, and extra servings are always available. Our menus offer the RDA (Recommended Daily Allowance) of fruits and vegetables every day.
Our meal program is nutritionally balanced, and all nutrients and ingredients are approved by dietitians and meet the California State standards of wellness and nutrition. Residents may request additional servings if they desire.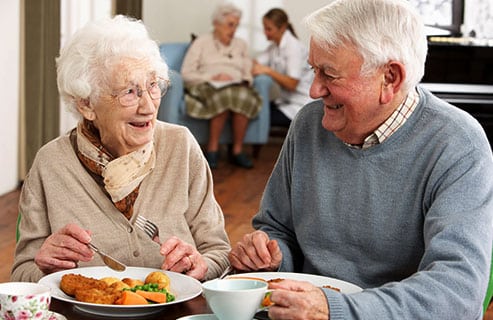 At Pleasanton, residents have the option of tailoring their menus according to personal preference. We feature in-room, outdoor, therapeutic, and social dining experiences for our patients.
I would like to start off by saying that I love this facility and spending my time here. I must say that I do wish to be staying with my son at home, but this is such a great alternative. Housing is great, and the nursing staff are always pleasant and meet my needs. The nurses I acknowledge are Paula, Dayo, Traci, Dimitri, and Rita. The RNA and Activities Staff are always great and keep me busy throughout the day with exercises and lots of fun. Housekeeping is wonderful, all staff keeps my room very clean, do a bang-up job, and have amazing personalities. Overall, I enjoy my stay here with new friends and staff.