24-hour nursing care
Full-time program director
Individual and group therapy sessions
Psychiatric and social worker
Physical and occupational therapy
Daily activities
Community outings
Adult education
Surgical aftercare
Orthopedic care
Comprehensive rehabilitation services
Physical therapy
Occupational therapy
Speech–language pathologist
Advanced wound care by an award-winning wound care team and in-house
certified wound-ostomy care nurse
IV antibiotic therapy
Religious services
Pet therapy
Substance-abuse recovery meetings
Laboratory services
Pharmacy services
Behavioral team meetings
Behavioral modification
Psychotropic drug review
Pain management
Medication management and insulin teaching
Sepsis and infection recovery
Outpatient rehabilitation services
Restorative nursing
Cardiac care
Stroke recovery
Enteral nutrition
TPN therapy
Rest and relaxation are important to your total recovery. Studies suggest maintaining positive psychosocial well-being promotes the healing process. At Siena Skilled Nursing & Rehabilitation Center, various activities are available to accommodate different hobbies, interests, and social needs. A calendar of daily activities with different themes and guests is provided to each guest to ensure you don't miss out on the fun! Personalized and one-to-one activity plans are offered and tailored to you or your loved one's needs.
Some Recurring Activities
Weekly visits from different religious groups—offering Communion, services
from various local churches, room visits, etc.
Fun Friday Bash—live music program
Professional pianist, harpist, and other musicians
Bingo
Thursday live games
Nails by Christie
Visits by "Big Daddy," our therapy miniature pony
Chair exercise classes
Monthly candlelit dinners
Rotary Club visits
Holiday events
Local Girl Scout Troop events
At Siena Skilled Nursing & Rehabilitation Center, our culinary staff is passionate about serving restaurant-quality food designed to meet your nutritional needs. Our Registered Dietitian will discuss your food preferences and dietary recommendations, providing alternate meal choices and snacks for all diet types.
Enjoy a fine dining experience under the skylights in our dining room, where our team seats you with friends and serves your personalized meal. In our spacious dining room, you are greeted by tablecloths, upbeat music, and warm smiles. Our staff pride themselves on remembering your favorite beverages and having them ready for you for each meal. Make some new friends and enjoy our five-Star Service! If room service sounds more enticing, make yourself comfortable as our staff set up your meal tray and offer you a selection of refreshing beverages from our beverage cart.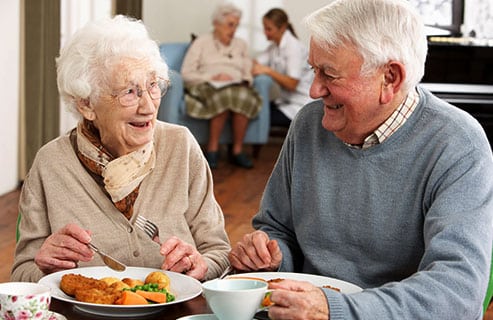 Special Treatment Program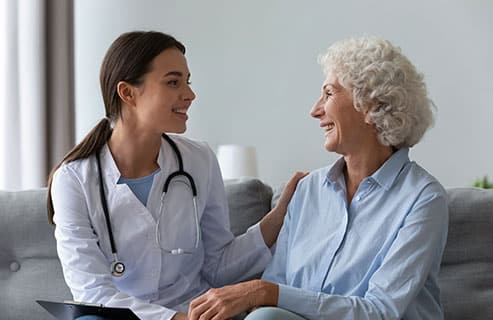 We have 47 beds in our program, dedicated to improving or preventing deterioration of our residents' current level of functioning. The recovery, wellness, and discovery approach involves collaborating with the resident to facilitate hope and empowerment, with the goals of counteracting internal and external "stigma," improving self-esteem, encouraging resident self-management of his or her life and making his or her own choices, reintegrating the resident into his or her community as a contributing member, and achieving a satisfying and fulfilling life.
Wonderful rehab facility. My mom stayed at Siena for 10 days due to a hairline fracture. From the start, the staff was friendly and helpful. The rooms were clean and comfortable, and my mom felt safe and cared for. The experience was so positive that my mom didn't mind being away from home while she recovered from her injury.