American Heart Association Certification Program
Physiatry program
Wound program
24-hour licensed nursing care
Medicare, HMO, and private insurance accepted
Discharge planning and social service assistance
Restorative nursing programs
Activity and recreational therapy programs
Registered dietitian
Regular and special diets available
Personal laundry service
Religious services and programs
Pharmacy consulting
Electric bed
Physical, occupational, and speech therapy programs
Intravenous therapy
Laboratory testing and X-rays
Physician, podiatrist, vision, and dental visits
Audiology services
Guest meals available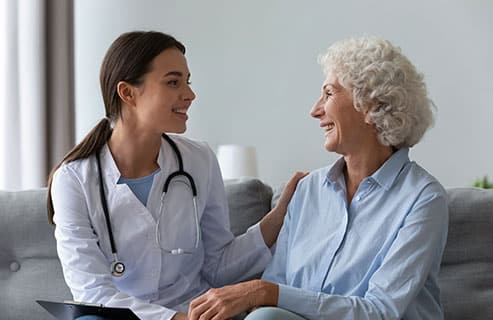 Beauty and barber services
Transportation
Flat-screen TVs in patient rooms with cable
24/7 phone interpretation for all languages, including Cantonese/Mandarin,
Hindi, Korean, Spanish, Tagalog, and Vietnamese
At Vista Manor, we believe that each resident in our care is unique, with individual needs and wishes. This philosophy directs our total care approach to patient care. Total care begins with an intense focus on the medical needs of each of our residents and continues with kind attention to their personal, social, and spiritual needs as well.
It is our goal to maximize the comfort and recovery potential of each of our residents, and at the same time provide comfort to those who cared for them long before we did. In addition to 24-hour skilled nursing care, we provide a comprehensive program of therapy services, including physical, occupational, and speech therapy. We provide intensive stroke and orthopedic rehabilitation and have achieved impressive outcomes as a result of state-of-the-art programs and equipment. Additionally, our activities department develops and implements a variety of therapeutic recreational programs that encourage social interaction and stimulate mental well-being and enthusiasm for life.
Vista Manor is a quality, total care nursing and rehabilitation facility with an exceptional staff and a wonderful environment. We believe that with one visit, you will see what we mean.
Therapy and Rehabilitation
Some of the most exciting things we do take place every day in our Rehabilitation Therapy Center. Our in-house therapists and nursing staff work as partners to treat patients who may have lost strength and mobility due to illness, trauma, or surgery. It is easy to imagine the delight of both the therapist and patient when that patient— who may have been incapacitated in one way or another—becomes more independent through concentrated effort and care. Our therapy department is led by the rehabilitation director, who supervises a staff of other physical, occupational, and speech therapists. These are trained and certified therapists who work exclusively for Generations Healthcare and within the Theragen system.
The staff and PT and OT departments are exceptional. When I thought all hope was gone, they brought me back 90% in two weeks. Now I know how to get back to 100%. I owe so much to all of you, and will always have you in my heart and in my prayers.